News & Updates
Stream KLB's new album 'Swagadocious' on the streets now:

May 2nd, 2013 – KLB Funk Train Tour Video Blog- Episode #14

May st, 2013 – BluesBlastMagazine.com gives Swagadocious
another rave review
Having spent a few of my formative years in the Midwest, I would never think of the state of Nebraska as being terribly hip or funky, and in Oklahoma we certainly had plenty of Nebraska jokes. But the Kris Lager Band comes out of the Cornhusker State with a heavy load of blues funk to blow my preconceptions right out of the water. Their fifth studio release, Swagadocious, is a huge album that is full of high-energy blues-based funk and boogie.
The Kris Lager Band has spent the last ten years touring around the Midwest, and countless gigs have enabled them to not only master their instruments and stagecraft, but to find their own sound. Kris Lager heads up the crew with his scorching guitars and solid vocals. Jeremiah Weir plays the keyboards, Brandon Hiller takes care of the bass parts, and John Fairchild handles the drums and takes on some of the vocal and lap steel chores. The band also mixes horns in on five of the tracks to keep things interesting; it certainly helps take this album to places they have not been before.
If you buy Swagadocious you will get your money's worth, as there is an hour and seven minutes of quality music stuffed into this package. This includes fifteen original tracks, and Lager gets writing credit on all of them. Right from the first verse it is evident that Kris is a great songwriter and that this is a band with great chops. "Come to Boogie / Now You Know" starts things out on a fun note with fat organ sounds and raunchy guitar tone over a rock-solid beat. Kris' voice has a lot of soul and his blistering solo work helps this mid-tempo blues rock tune set the mood for the rest of the album.
The next track, "Sunny Day Souldier," has a more laid back soul vibe, but the band still brings it on in a big way. Weirs' Hammond and the tight horn section paint a nice background for Fairchild's heartfelt vocals and the band's harmonies. There is also a fun 1960's-issue call and response, so there is no way to listen to this song and not come away in a good mood.
This segues into my favorite song on the album, "Daylight Come / There is No Place." This guitar-driven psychedelic blues rock song has wide variations in tempo, but still maintains a constant tone and focus. Lager is at the top of his game on this one, with mad guitar skills and howling vocals. Hiller and Fairchild do a masterful job of holding things together as the song speeds up and slow down. I will have to sneak this one into the mix for my next DJ gig.
The Kris Lager Band is constantly evolving and trying new things, as you will hear throughout this album. John Fairchild even managed to slip a little rap and scratching into the funk-filled "Get Back," not in a hardcore East Coast / West Coast manner, but more in the spirit of the Red Hot Chili Peppers. These guys are not afraid to try something different, and I think it worked out well in this case.
The late Magic Slim makes a guest appearance on an impromptu track, "Kris Done Took my Woman." This 12-bar blues song makes the full use of Slim's rich voice, and Kris backs off the distortion a little on his guitar to fit into this more traditional framework. This song was well-placed in the mix, as breaking things down to the basics provides a nice pause from the complexity of the other tracks on the album.
The other ten tracks are just as good as these, and the overall consistency is indicative of the maturity of this band as well as their musical and songwriting skills. Swagadocious sounds as big and fabulous as its title and there is plenty to like here; if you are a blues, funk or soul fan and are looking for something a little out of the ordinary you have to check this album out.
If you like their music, I understand that the guys have not let the grass grow under their feet, and are finishing up yet another album, Platte River Runaway. This is being produced by the heavy-hitting bluesman Tab Benoit, so I expect it to be just as good as this one. The Kris Lager Band is the real deal, and I expect only great things from them!
Reviewer Rex Bartholomew is a Los Angeles-based writer and musician; his blog can be found at www.rexbass.blogspot.com.
May 1st, 2013-Kris talks about the opening track off of KLB's album Swagadocious

April 18th, 2013- New KLB Funk Train Video Blog
Clips from KLB's California recording session with Ian & Kelly from The Monophonics- March 2013

April 16th, 2013- KLB live in Bloomington, Illinois
@ a sold out Castle Theatre from April 4, 2013

Watch the show here:
Thanks to Dan Olker for taping the performance!
April 2nd, 2013-New KLB Video Blog- Funk Train Episode #12
(Western USA tour)

Mar. 28th, 2013-Kris talks about his collaboration with Magic Slim
A brief story of how Magic Slim came to record on Kris Lager Band's album Swagadocious released in September of 2012


March 20th, 2013- KLB live in the studio in San Rafael, California

Feb. 21st, 2013- KLB Funk Train- Episode #11 (Frasco & KLB tour + KZUM Interview) Jan. & Feb. 2013

Feb. 11th, 2013- Episode #10: KLB Funk Train-
(Nebraska, Iowa, Texas Shows, afterhours & Highkicking competition)

Feb. 9th, 2012- Swagadocious gets 9 out of 10 stars on BluesRockReview.com:

Swagadocious is the latest album from the Kris Lager Band. As the album title implies, it is filled with blues rock swag like no other! The band is comprised of singer/songwriter and guitarist Kris Lager, John Fairchild on drums, Brandon Miller on bass and Jeremiah Weir on keys and percussion.
The first track, "Come to Boogie/Now You Know" starts the album off on an exciting note. The mid-tempo rocking song showcases the incredible musicianship camaraderie this band has together.
The next track on the album, "Sunny Day Souldier" sounds just as sunny as the song title! It is a relaxed tune with clear Motown and gospel inspiration. With a call and response section and lyrics like "Feels so good, feels so right just to celebrate life" there's no way this song won't instantly lift any listener's spirits.
Other stand out songs include "Couple Skate," "Kris Done Took My Woman," and "Strange Desire." " Couple Skate" is a slow blues where the soul can be felt from the bass, horns, guitar, drums, and all the way up through the heartbroken vocals. Head to toe soul is what this song is all about. "Kris Done Took My Woman" is another tight track with a bit of humor and an outstanding guest appearance from Magic Slim. "Strange Desire" is one of the last few songs on the album. It has a unique vibe fused with psychedelic influences.
The Kris Lager Band's album, Swagadocious, is an innovative form of blues rock. There's a little bit of the old, the new, the traditional, contemporary and outside of the box writing. This album was properly named, as it truly is Swagadocious.
The Review: 9/10
Can't Miss Tracks
- Come to Boogie/Now You Know
- Sunny Day Souldier
- Couple Skate
- Kris Done Took My Woman
- Strange Desire
The Big Hit
- Sunny Day Souldier
Feb. 6th, 2013- New KLB track to be recorded in San Francisco later this month:
Feb. 5th, 2013- KLB write up in Blue Monday by Gary Eckhart:
Jan. 9th, 2013- Episode #9: KLB Funk Train-
(Nebraska & Kansas shows, New Years Eve Beastie Boy's Tribute with Sophistafunk- Dec. 2012)
Jan. 7th, 2012- Stream KLB's Beastie Boys Tribute from NYE right here! Check it out and enjoy. Much LOVE TO THE BEASTIE's, RIP MCA!
Eternal Jamnation States:
"So now we know… Kris Lager Band isnt just blues, rock, etc… they actually have a little street cred with Myself and Definetly with Sophistafunk…NY came to KLB and they proved themselves on their turf! Take a listen to this and enjoy… It's fun…" >
Jan. 6th, 2012- Thanks to all our great friends who brought in the New Years in Lincoln at The Bourbon Theatre with us!!
Photo: Lori Sutton

Photo: Keri Hess

Photo: Keri Hess


Dec. 27th, 2012- Episode #8: KLB Funk Train- (3 steps to Thrift Store FUNK!! (Dec. 2012)
Dec. 26th, 2012- KLB performing 'What Ya Got' off of their new album 'Swagadocious'
Thanks to Brent @ Ponderland productions

Dec. 23rd, 2012- Kris & Jeremiah performing (I Got Time to Spend)

Dec. 23rd, 2012- Kris & Jeremiah performing (Tomorrow I'll Fly)

Dec. 18th, 2012- KLB performing 'Van Morrison' off of their upcoming Tab Benoit produced release 'Platte River Runaway'
Thanks to Brent @ Ponderland productions

Dec. 15th, 2012- KLB is happy to announce Brad Raffenaud as the newest addition to the KLB family. He and In The Pocket Artists will be their exclusive booking representatives!!

KLB's Artist Page
CONTACT INFO:
Brad Raffenaud
Ph: 616-322-3836
brad@inthepocketartists.com
Dec. 13th, 2012- Episode #7: KLB Funk Train- (Colorado, Minnesota, & Iowa Tour) Dec. 2012
Dec. 5th, 2012- Episode #6: KLB Funk Train- (Topeka, KS + Des Moines, IA + Dumptruck Butterlips session)
Nov. 15th, 2012- Episode #5: KLB Funk Train- (Missouri Trip + KKFI interview)
Nov. 14th, 2012- Daily Nebraskan gives 'Swagadocious' an A-!!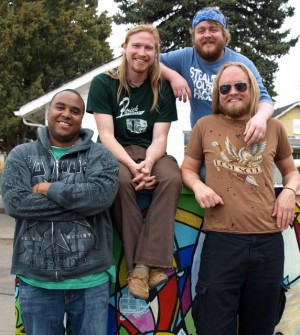 some highlights from Joe Wade's article. Thanks Joe!!:
* "On rare occasions an album comes along that just makes you feel good, no matter what mood you're in."
* "The vocals have such a bluesy, sweet texture, I'm reminded of the first time I heard
Van Morrison. It's that certain kind of special that can't be faked"
* "Few do it as well as Kris Lager Band"
Nov. 7th, 2012- Episode #4: KLB Funk Train- (Halloween Shows)
Oct. 24th, 2012- Episode #3: KLB Funk Train
Oct. 18th, 2012- Episode #2: KLB Funk Train
Oct. 10th, 2012- New Road Blog entitled: KLB Funk Train Episode #1
Sept. 26th, 2012- PS Blues' raves about KLB's new record:
"A RARE ENDORSEMENT: In a genre awash with stage souvenirs, the new album by the Kris Lager Band, Swagadocious, is steeped in the flavors of the artists that brought us to the blues; Derek and the Dominos, Duane Allman and classic period Eric Clapton. The new album is a creative mix of melody which relies heavily on authentic blues textures and intricate arrangements. Swagadocious bears up to repeated listening long after the smell of stale smoke and spilt beer has gone. This record captures a band moving into a creative period where the output is art in the classic sense of great albums. The time has come – this band is ready for the national stage."- Pacific Street Blues
Sept. 17th, 2012- Thanks to all our great Lincoln and Omaha fans who came out to The CD Release Parties!! Southward ho…


Photos courtesy of Cara Wilderwing


Photo of Miah Courtesy of Keri Hess
Sept. 16th, 2012- KLB on KZUM in Lincoln, NE:

Sept. 14th, 2012- Kris & John on 104.1 The Blaze:

Sept. 13th, 2012- HearNebraska.org 'Swagadocious' Review:


Excerpts:
"Musically, the album — recorded at SadSon Music Group — is hot-hot-hot"
"Like any blues/soul band worth their salt, the Kris Lager Band has mastered their instruments"-Cory Kibler (Hear Nebraska)
Sept. 11th, 2012- Daily Nebraskan Article: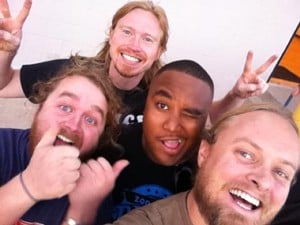 Headline:
'Our mantra is to celebrate life': Kris Lager Band creates emotional funk
Click Here to Read Article
Sept. 5th, 2012-

Order or download KLB's new album at:

Sept. 4th, 2012-
Listen to the World Radio premiere of 'Swagadocious' complete with interviews and insights on the the bands new release. Listen at: http://kiwrblues.podomatic.com/ Click Here
Sept. 3rd, 2012-
Thanks to the Des Moines Skydivers (COUCHFREAKS)!! They pushed us out of the plane at 13,500 feet and we lived!! wheeewww, WHAT A BLAST!

Aug. 17th, 2012-
KLB Article By Don Chance of The Times Record News (Wichita Falls, TX)
Headline:
Nebraska musician aims to lift spirits


\
Here's what Times Record News says of 'Swagadocious'
"Swagadocious" by Kris Lager Band
Speaking of tight roots rock with lots of different moods and textures, the Kris Lager Band should have a new CD available for fans tonight when they perform at the Iron Horse Pub, and Saturday when they play a show for the Hotter'N Hell Hundred crowds.
"Swagadocious," the Nebraska outfit's fourth album, continues Lager's "roots revivalist" ambitions, and it certainly won't disappoint the fans.
Packed with a generous 15 songs, "Swagadocious" has something for everyone who appreciates music with a little more energy and a little rougher edge than the slick radio-friendly fluff we get from Nashville nowadays.
"Prisoner of My Own Mind," "I'm in the Mood" and "Can't Go On" give a good idea of the band's scope, but the rest of the extended set is just as hot.Next rating: A-